Journalists from Mexican newspaper La Jornada present a book about their work on WikiLeaks Cables.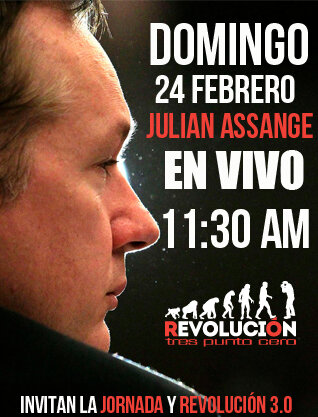 We have reported that Mexican newspaper La Jornada received from the hands of Julian Assange in January 2011 a set of Embassy cables. After publishing and analyzing these documents during 18 months, they decided to keep and publish the « memory of this journalistic adventure », by editing, under the direction of journalist Pedro Miguel, a book whose title is : « Mexico in Wikileaks, Wikileaks in La Jornada » It contains the articles published in the newspaper from February 11th, 2011 to August 24th last year.
On Sunday 24, this book will be presented in the "Palacio de la Mineria", en Mexico, at 11.30 am.
Julian Assange will participate to the event by video link from London. Kristinn Hrafnsson will be present in Mexico. The event will be live-streamed here:
http://revoluciontrespuntocero.com  and http://jornada.unam.mx 
Note that 11.30 am in Mexico is 17.30 pm GMT.
Here is a link to a video where Pedro Miguel, coordinator, presents the event (Spanish)
http://revoluciontrespuntocero.com/wikileaks-en-mexico-pedro-miguel/#ooid=hqMmxqOTqZUfgrJTWTGkISkdGOStWyzp
Our first article about this issue and the impact of the cables in Mexico can still be found here:
http://wikileaks-press.org/cables-impact-mexico-and-wikileaks/